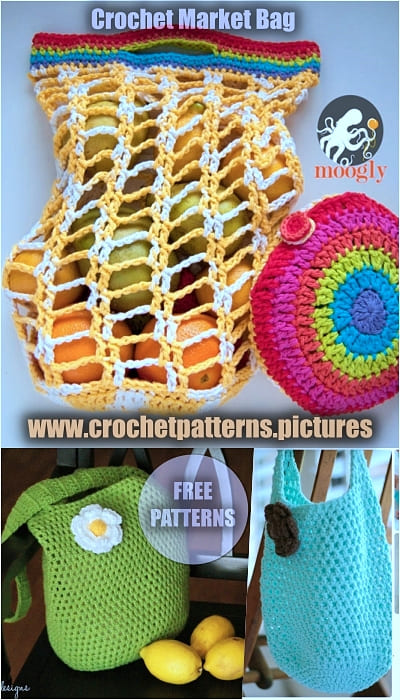 In this topic, we will introduce you to a few of the market bags that are the products of two successful crochet designers. To access the free pattern instructions of the products, it will be sufficient to click on the auxiliary links within the subject.
Free Market Tote Crochet Pattern

First, let's start with Lauren's floral pattern crochet market bag. We can easily say that Lauren is a successful crochet designer with enough experience. You will see two different products of his own. The first product is a large crocheted market bag with a turquoise color floral pattern. The important thing for us here is not the color of the product. You can adjust the color preference according to your style. We wanted to present this product to you because it is stylish and useful.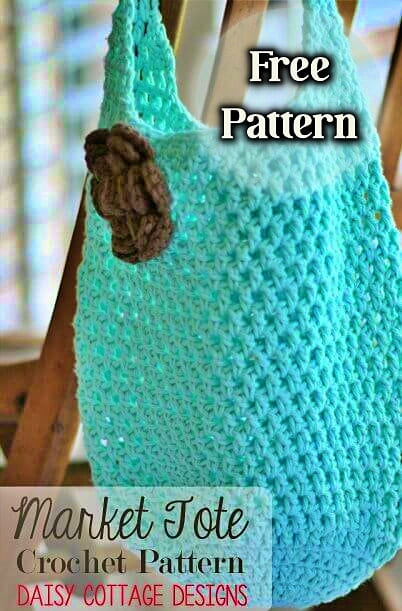 Before you get started, make sure you have the following:
About 250 yards of worsted weight yarn (I like this cotton yarn and this acrylic yarn)
An I hook (Clover hooks are my favorites!)
A safety pin for marking stitches.
A flower or other embellishment to spice it up!

RAINBOW POCKET MARKET BAG

Secondly, the designer of the product we will introduce to you is Tamara Kelly. Tamara has designed a crocheted market bag that draws attention. This cute and stylish product is ideal for the summer season. We also recommend you to check out Tamara's other designs.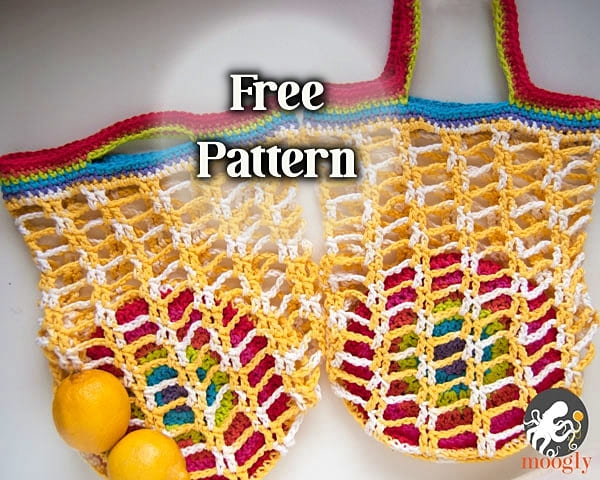 US – I, 5.5 mm hook
US – F, 3.75 mm hook (optional, for making button)
200 yards Bernat Handicrafter (Worsted, 100% cotton)
120 yards Color A, 10-40 yds each of Colors B-G
Button (optional, if you choose not to make your own)
Special techniques (click for tutorials): Magic circle; Standing dc; Seamless join; Back loop only – BLO (for all other sts used, please see the Video Tutorials page)

Large Market Tote Crochet Pattern

The third and last product we will introduce is also from Lauren. If you want a cute and wide crochet market bag, this design is for you.
Materials:
– approximately 8 oz of worsted weight, cotton yarn
– I crochet hook
– Flower for embellishing (I used a flower made from this pattern)
– Safety pin for marking stitches
We hope you enjoy these products we have chosen for you. We will be back with different project examples soon. To support us, please do not forget to share the pictures in the subject through social media.